All You Ever Wanted to Know about Cats
but Didn't Know Whom to Ask

Did you ever have a question
about your cat...

Why do cats act the way they do?
What's good and not good for them?
How to keep them as healthy as possible?
but you just didn't know
where to find the answers?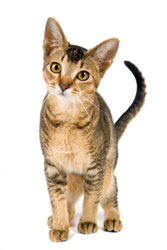 Well now you have a great new resource.
And best of all, it's FREE!
We've created a great new newsletter called The Cat Health Mewsletter. (Forgive us, we just couldn't help taking advantage of that play on words.)
Actually, it's a really informative Cat Health newsletter created by veterinarian Dr. Christianne Schelling, and it's full of all kinds of helpful information about health care, behavior, training, and a host of other topics that will demystify the strange and wonderful world of cats.
It will have reviews of cat products and toys and give you important safety tips. You can learn things like how to make a litter box less smelly, and how you can keep your cat happy and still preserve your furniture. It will give you insight on why cats behave so weirdly at times, and it will also provide you with a wealth of important information on how to keep your cat healthy and identify any problems before they get out of control.
You'll find the Mewsletter fun and easy to read, but you'll be getting really important and helpful information with every issue.
With the Mewsletter, you're not alone. Most cat lovers want to know more about their cats. They just don't know where to find the answers. Well, now YOU do! And it won't cost you a cent.
All you have to do is sign up.
Your email address will be safe with us, you can be sure of that. We will never give your information to anyone else. And remember, the Mewsletter is completely free—absolutely no strings attached, and you can unsubscribe at any time.
We'll be looking forward to having you as a Mewsletter subscriber.
Disclaimer: This website is not intended to replace professional consultation, diagnosis, or treatment by a licensed veterinarian. If you require any veterinary related advice, contact your veterinarian promptly. Information on The Cat Health Newsletter is exclusively of a general reference nature. Do not disregard veterinary advice or delay treatment as a result of accessing information in this newsletter or on this site.