Simple Four Step Soft Claws Application for Cats
Instructions: How to Apply Soft Claws®
Applying Soft Claws® is easy! Watch our video on how to apply Soft Claws®!

FOR KITTENS: Do not trim kittens' claws before applying Soft Claws. You will need sufficient claw surface for the glue to adhere properly.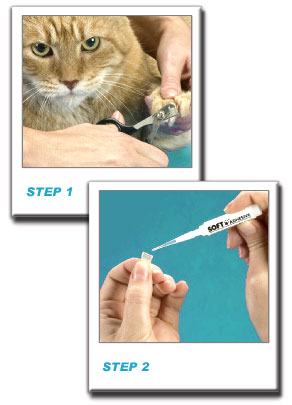 STEP 1: Trim the tip of your cat's nails. Trim just enough
to allow the nail cap to fit all the way to the base
of the nail.

STEP 2: Fill nail caps 1/3 full with adhesive.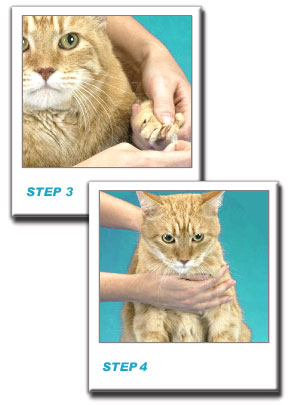 STEP 3: Extend nails by gently pressing thumb on top with index finger on bottom of paw—slide nail caps onto nail.
STEP 4: Observe cat for five minutes before release. You can play with your cat or feed some of kitty's favorite food to distract for a few minutes.